Description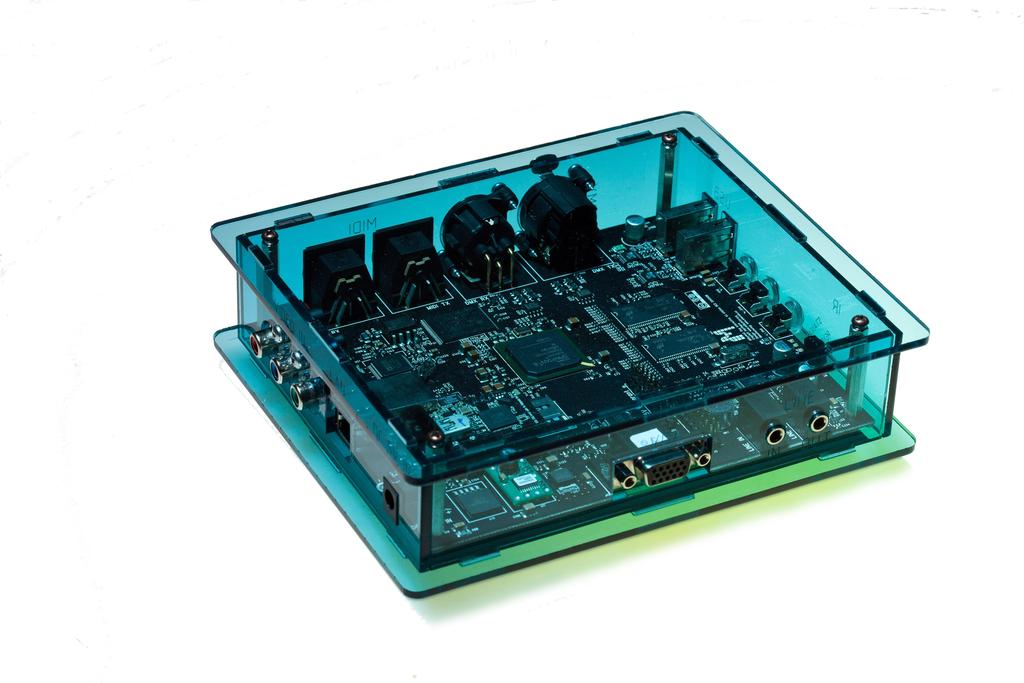 The Milkymist™ One is an open hardware product that concentrates all the processing power and the interfaces of an heavily interactive VJ setup into one small box. With a unique combination of built-in interfaces such as MIDI, DMX512, analogue video input, Ethernet, OpenSoundControl and generic digital I/O, it gives you all the tools to create truly interactive performances. It is also the best FPGA development platform that an advanced electronics enthusiast can have.
Manufacturing is carried out by Sharism at Work Ltd.
Features:
Multi-standard video input (PAL/SECAM/NTSC)
Two DMX512 (RS485) ports
MIDI IN and MIDI OUT ports
VGA output, 24bpp, up to 140MHz pixel clock (> 1024x768)
AC'97 audio
XC6SLX45 Spartan-6 FPGA supporting the open source Milkymist SoC
128MB 32-bit DDR SDRAM
32MB parallel flash
10/100 Ethernet
Memory card
Two USB host connectors
RC5-compatible infrared receiver
RS232 debug port
Cloned here at RC3.
See the MilkyMist GitHub for the accompanying HDL and software sources.
Schematic

Board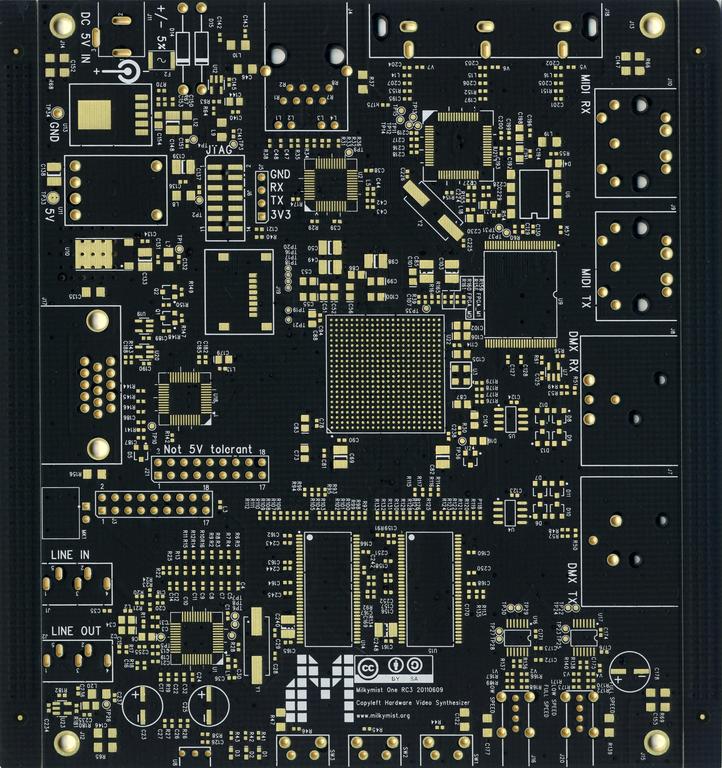 Bill of Materials
| Designator | Value | Description |
| --- | --- | --- |
| U1 | WM9707SCFT/V | AC'97 Revision 2.1 Audio CODEC with SPDIF Output (48-lead TQFP) |
| U2 | KSZ8001L | TRANSCEIVER ETHERNET, 8001 (LQFP-48) |
| U4, U5 | SN75HVD12DR | 3.3V RS-485 TRANSCEIVERS, 1Mbps, SOIC-8 (SOIC-8) |
| U6 | 6N138S | 8-Pin SMD Single-Channel Low Input Current High Gain Split Darlington Output Optocoupler (SMDIP-B) |
| U7, U19, U20 | SN74LVC1G17DBVR | SINGLE SCHMITT-TRIGGER BUFFER, SOT-235 (SOT-235) |
| U8 | TSOP34838 | Infrared Receivers 2.5V-5.5V 38kHz (THROUGH HOLE) |
| U9 | JS28F256J3F105 | FLASH 256Mbit, 105ns, 3V (56-TSOP) |
| U10 | LP38690DT-3.3 | 1A Low Dropout CMOS Linear Regulators Stable with Ceramic Output Capacitors (TO-252) |
| U11 | PTH04000WAH | 3-A, 3.3/5-V Input Adjustable Switching Regulator with Auto-Track Sequencing (THROUGH HOLE) |
| U12, U23 | TPS76301DBVRG4 | LOW POWER 150mA LOW DROPOUT LINEAR REGULATORS SOT-23, VARIABLE (SOT-23) |
| U13 | LP38511TJ-ADJ/NOPB | 800mA Fast-Transient Response Adjustable Low-Dropout Linear Voltage Regulator (TO-263) |
| U14, U15 | MT46V32M16P-5B:F | 8 Meg x 16 x 4 banks, VDD = +2.6V ±0.1V, VDDQ = +2.6V ±0.1V (DDR400), 5ns, DDR400B (66-TSOP) |
| U16, U17 | MIC2550AYTS | Universal Serial Bus Transceiver (14-TSSOP) |
| U18 | ADV7125KSTZ140 | CMOS, 330 MHz, Triple 8-Bit High Speed Video DAC (LQFP-48) |
| U21 | ADV7181BBSTZ | Multiformat SDTV Video Decoder (LQPF-64) |
| U22 | XC6SLX45-2FGG484C | SPARTAN-6 (FGG484) |
| U24 | A4809E3R-263DN | High Precision Built-in Delay Circuit Ultra-low Voltage 2.63V Detector (SOT23) |
| Q1, Q2 | 2N7002MTF | N-Channel Small Signal MOSFET RDS(on) = 5.0 Ω BVDSS = 60 V ID = 200mA (SOT23) |
| D1, D2, D3 | KP-1608SGC | LED, GREEN, 1.2mm x 0.8mm, SMD (0603) |
| D4 | TS4148 RY | Diode, 0805, 0.5A, (0805) |
| D5 | AD1580BRTZ-R2 | 1.2 V Micropower, Precision Shunt Voltage Reference (SOT23-3) |
| D6, D7, D8, D9, D10, D11, D12, D13 | BZX84-C4V3 | Voltage Regulator Diode, 4.3V, SOT-233, 250mW (SOT-233) |
| D14, D15 | 1N5339BG | Zener Diodes 5.6V 5W (DO-35) |
| D16 | MSCD104H | Schottky Barrier Diode 1A 40V (SOD-323 ) |
| Y1 | R49SSA-024576-F18-DDC-YQA | Crystal, 24.576MHz, HC49/4HSMX, 18PF CL, 20ppm (HC49/4HSMX) |
| Y2 | R49SSA-028636-F20-YYY-YQA | Crystal, 28.636MHz,HC-49SMD, 20PF CL, 30ppm (HC-49SMD) |
| U3 | SO5032-050000-O3A-BBE-QA | OSC, 3.2X5MM, CER, 50.000MHZ, SMD (3.2mm * 5mm) |
| C1, C3, C13, C30, C31, C32, C38, C39, C41, C43, C44, C45, C47, C48, C123, C124, C125, C126, C128, C129, C130, C131, C132, C136, C137, C140, C141, C142, C143, C145, C149, C150, C151, C157, C162, C167, C168, C169, C170, C183, C184, C185, C186, C189, C190, C192, C194, C195, C196, C197, C199, C201, C208, C209, C214, C215, C216, C217, C220, C228, C232, C233, C234, C236, C237, C242, C243, C244, C245, C250, C251, C252, C254 | CC0402KRX5R8BB104 | Capacitor, X5R, 25V, 100nF, 10%, SMD (0402) |
| C193, C200 | CC0402KRX7R9BB101 | MLCC, X7R, 50V, 100pF,10%, SMD (0402) |
| C49, C50, C69, C82, C85, C98, C103, C240, C248 | C3225X5R0J107MT | Capacitor, X5R, 6.3V, 100uF, 20%, SMD (1210) |
| C120, C158, C159, C160, C161, C163, C164, C165, C166, C180, C181, C182, C210, C211, C218, C219, C221, C227, C229 | CC0402KRX7R7BB103 | MLCC, X7R, 16V, 10nF, 10%, SMD (0402) |
| C34, C144, C154, C179, C191, C198, C212, C213, C222, C223, C230, C231, C235, C253 | CC0805MRX5R5BB106 | MLCC, X5R, 6.3V, 10uF, 20%, SMD (0805) |
| C4, C5, C7, C8, C9, C10, C11, C12, C14, C18, C19, C20, C21, C22, C24(DNP), C35, C36, C37, C40, C42, C121, C127, C134, C156, C171, C172, C174, C175, C187, C188 | C1005X5R0J105KT | MLCC, X5R, 6.3V, 1uF, 10%, SMD (0402) |
| C6 | CC0805KRX5R6BB225 | MLCC, X5R, 10V, 2.2uF, 10%, SMD (0805) |
| C15, C16, C17, C26(DNP), C27(DNP) | CC0402KRX7R9BB221 | MLCC, X7R, 50V, 220pF, 10%, SMD (0402) |
| C23(DNP), C25(DNP), C178 | 10TZV220M6.3X8 | Aluminium Electrolytic Capacitor, 10V, 220uF, 20%, 6.3mm Diameter, 8mm Height, 0.34ohm, SMD, Rubycon TZV (6.3mm * 8mm) |
| C46, C122, C135, C146, C147, C152, C155, C177 | CC1206X7R9K472RL | Ceramic Chip - High Voltage Capacitor, X7R, 250V, 4.7nF, 10%, SMD (1206) |
| C153 | CC0402KRX7R9BB332 | MLCC, X7R, 50V, 3.3nF, 10%, SMD (0402) |
| C2 | ECJ2YB0J335K | MLCC, X5R, 6.3V, 3.3uF, 10%, SMD (0805) |
| C28, C29, C225, C226 | CC0402JRNPO9BN330 | MLCC, NPO, 50V, 33pF, 5%, SMD (0402) |
| C51, C52, C53, C54, C55, C56, C70, C71, C72, C73, C83, C84, C86, C87, C88, C99, C100, C101, C102, C104, C105, C106 | C2012X5R0J475KT | MLCC, X5R, 6.3V, 4.7uF, 10%, SMD (0805) |
| C57, C58, C59, C60, C61, C62, C63, C64, C65, C66, C67, C68, C74, C75, C76, C77, C78, C79, C80, C81, C89, C90, C91, C92, C93, C94, C95, C96, C97, C107, C108, C109, C110, C111, C112, C113, C114, C115, C116, C117, C118, C119, C173, C176 | CC0402KRX5R5BB474 | MLCC, Capacitor, X5R, 6.3V, 470nF, 10%, SMD (0402) |
| C202, C203, C204, C205, C206, C207 | CC0402KRX7R9BB121 | MLCC, X7R, 50V, 120pF, 10%, SMD (0402) |
| C133, C138, C139, C148 | C3225X5R0J476MT000N | MLCC, X5R, 6.3V, 47uF, 20%, SMD (1210) |
| C255 | CC0402KRX5R7BB473 | MLCC, X5R, 16V, 47nF, 10%, SMD (0402) |
| C224 | 0402X823K100CT | MLCC, X5R, 10V, 82nF, 10%, SMD (0402) |
| L2, L3, L4, L5, L6, L13, L14, L15, L16, L17, L18 | CB100505T-601Y | Ferrite bead, 300mA, 100MHz:600ohm, SMD (0402) |
| L7, L8, L9, L10, L12, L19(DNP), L20 | FBMJ3216HM600-T | Power ferrite bead, 100MHz:60ohm, 6A, SMD (1206) |
| R67 | RC0402FR-071K4L | Resistor, 1.4K, 0402, 1% (0402) |
| R168(DNP), R169(DNP), R172(DNP), R173(DNP) | RC0402FR-071K5L | Resistor, 1.5K, 0402, 1% (0402) |
| R166, R167, R170, R171 | RC0402FR-0715KL | Resistor, 15K, 0402, 1% (0402) |
| R155 | RC0402FR-071K69L | Resistor, 1.69k, 0402, 1% (0402) |
| R48, R49, R52, R53 | RC0402FR-0710RL | Resistor, 10, 0402, 1% (0402) |
| R58, R164, R165 | RC0402FR-07100RL | Resistor, 100, 0402, 1% (0402) |
| R1(DNP), R17, R18, R19, R26(DNP), R27(DNP), R44, R45, R46, R60, R61(DNP) | RC0402FR-0710KL | Resistor, 10K, 0402, 1% (0402) |
| R41, R42, R43, R50, R51, R54, R91 | RC0402FR-07120RL | Resistor, 120, 0402, 1% (0402) |
| R64, R180 | RC0402FR-07169KL | Resistor, 169K, 0402, 1% (0402) |
| R22, R70, R92, R113, R134, R135, R141, R162, R163, R174, R175, R176(DNP), R177, R178(DNP), R179(DNP) | RC0402FR-071KL | Resistor, 1K, 0402, 1% (0402) |
| R28(DNP), R154 | RC0402FR-071ML | Resistor, 1M, 0402, 1% (0402) |
| R13 | RC0402FR-072K2L | Resistor, 2.2K, 0402, 1% (0402) |
| R62 | RC0402FR-072K32L | Resistor, 2.32K, 0402, 1% (0402) |
| R36, R38, R55, R56, R57 | RC0402FR-07220RL | Resistor, 220, 0402, 1% (0402) |
| R136, R137, R138, R140 | RC0402FR-0724RL | Resistor, 24, 0402, 1% (0402) |
| R37, R47, R65, R66, R68, R69, R139, R156 | RC1206JR-071ML | Resistor, 200V, 1M, 1206, 5% (1206) |
| R71, R72, R73, R74, R75, R76, R77, R78, R79, R80, R81, R82, R83, R84, R85, R86, R87, R88, R89, R90, R93, R94, R95, R96, R97, R98, R99, R100, R101, R102, R103, R104, R105, R106, R107, R108, R109, 110, R111, R112, R114, R115, R116, R117, R118, R119, R120, R121, R122, R123, R124, R125, R126, R127, R128, R129, R130, R131, R132, R133 | RC0402FR-0733RL | Resistor, 33, 0402, 1% (0402) |
| R39 | RC0402FR-07330RL | Resistor, 330, 0402, 1% (0402) |
| R181 | RC0402FR-07442KL | Resistor, 442K, 0402, 1% (0402) |
| R29, R30, R147, R148, R149, R150, R157 | RC0402FR-074K7L | Resistor, 4.7K, 0402, 1% (0402) |
| R40, R143 | RC0402FR-0747RL | Resistor, 47, 0402, 1% (0402) |
| R25 | RC0402FR-0747KL | Resistor, 47K, 0402, 1% (0402) |
| R32, R33, R34, R35 | RC0402FR-0749R9L | Resistor, 49.9, 0402, 1% (0402) |
| R142 | RC0402FR-07560RL | Resistor, 560, 0402, 1% (0402) |
| R31 | RC0402FR-076K65L | Resistor, 6.65K, 0402, 1% (0402) |
| R2, R3, R4, R5, R6, R7, R8, R9, R10, R11, R12, R14, R15, R16, R20, R21, R23, R24 | RC0402FR-076K8L | Resistor, 6.8K, 0402, 1% (0402) |
| R144, R145, R146, R151, R152, R153 | RC0402FR-0775RL | Resistor, 75, 0402, 1% (0402) |
| R63 | RC0402FR-0786K6L | Resistor, 86.6K, 0402, 1% (0402) |
| L1, R159, R161, R158(DNP), R160(DNP), R182(DNP) | RC0402JR-070RL | Resistor, 0, 0402, 1% (0402) |
| V1, V2, V3, V4 | V0402MHS03NR | Varistors - MOV & MLV 42VDC .01J 110V-CLAMP 1A-PK (0402) |
| V5, V6, V7 | V9MLA0402LNH | Varistors 9V 20A 33pF (0402) |
| F2 | MINISMDC200F-2 | Polyswitch Trip Current 4A Hold Current 2A SMD, PTC Resettable Fuses 2A 8V 100A Imax (1812) |
| J1, J2 | SCJ368R1NUS0B00G | Jack plug, AUDIO/VIDEO CONNECTORS (THROUGH HOLE) |
| J3, J21 | MD241849 | Header, Top Entry, 2X9, 2.54mm (THROUGH HOLE) |
| J4 | RTF-114B8A1A | Telecom & Ethernet Connectors RA MOD JACK 8/8 W/ LEDS (THROUGH HOLE) |
| J5 | M241844 | Header, Top Entry, 1X4, 2.54mm (THROUGH HOLE) |
| J6 | 87832-1420 | Headers 14P SMD PB FREE SHRD (SMD) |
| J7 | NC3FAH1 | SOCKET, XLR, PANEL, HORIZ/PCB, NEUTRIK (THROUGH HOLE) |
| J8 | NC3MAH | PLUG, XLR, PANEL, HORIZ/PCB, 3POLE, NEUTRIK (THROUGH HOLE) |
| J9, J10 | 671-0500 | SOCKET, DIN, PCB, 180, 5PIN, 5WAYS, 45 DEGREE (THROUGH HOLE) |
| J11 | SCD441CPS011B00G | SOCKET, PCB, DC POWER, 2.1MM (THROUGH HOLE) |
| J16, J20 | 48204-0001 | USB & Firewire Connectors USB TYPE A REC UPRIGHT REVERSE (THROUGH HOLE) |
| J17 | D11215SXX31XN | D Sub-15, FEMALE (THROUGH HOLE) |
| J18 | SCP662CNS257U00G | CONN RCA JACK R/A RED/GREEN/BLUE (THROUGH HOLE) |
| J19 | 500901-0801 | Memory Card Connectors RIGHT ANGLE SMT Hinge Type (SMD) |
| MK1 | MCE-100 | Electret microphone, DC:10V 5.6mV/Pa, ∅9.7 x 6.7mm. (∅9.7 x 6.7mm, THROUGH HOLE) |
| SW1, SW2, SW3 | FSMRA2JH | SWITCH, TACTILE, SPNO, R/A, (THROUGH HOLE) |
| | K231060001 | RC3 PCB |
| | SMT/DIP | MOUNTING PARTS |
| | HTS306 | Plastic Hexagonal Threaded Space, M3 * 0.6 |
| | PN3 | Plastic Fastener |
| | | |
[JSON]