synapse-relay yzf600
Add on board for a Synapse Wireless module
Description

This project does not have a descriptive photograph.
This is a PCB for a Synapse Wireless RF200 module. It provides access to 2 relays and 4 GPIO pins of the module. One of the GIPOs can also serve as an analog in. There are 2 status LEDs as well. It can also provide a usb port to allow a computer to communicate to the module.
Power can be provided by a mini-USB plug or via 2 pin screw terminal.
At the last minute, I added an Xbee footprint, so it should work with both modules.
Schematic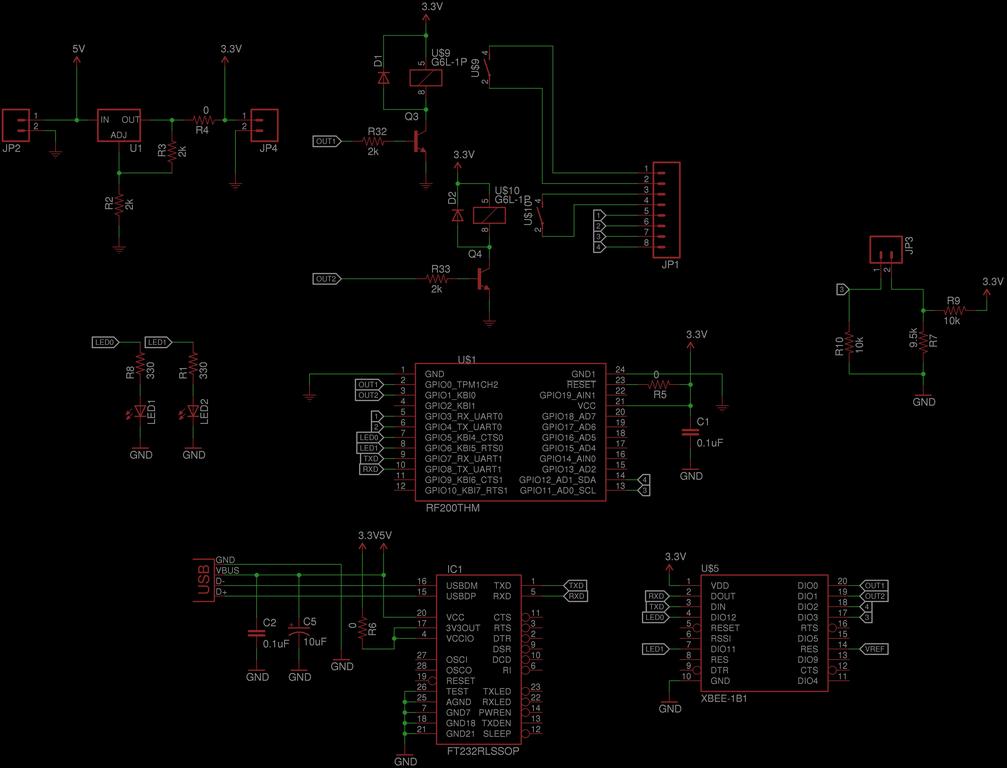 Board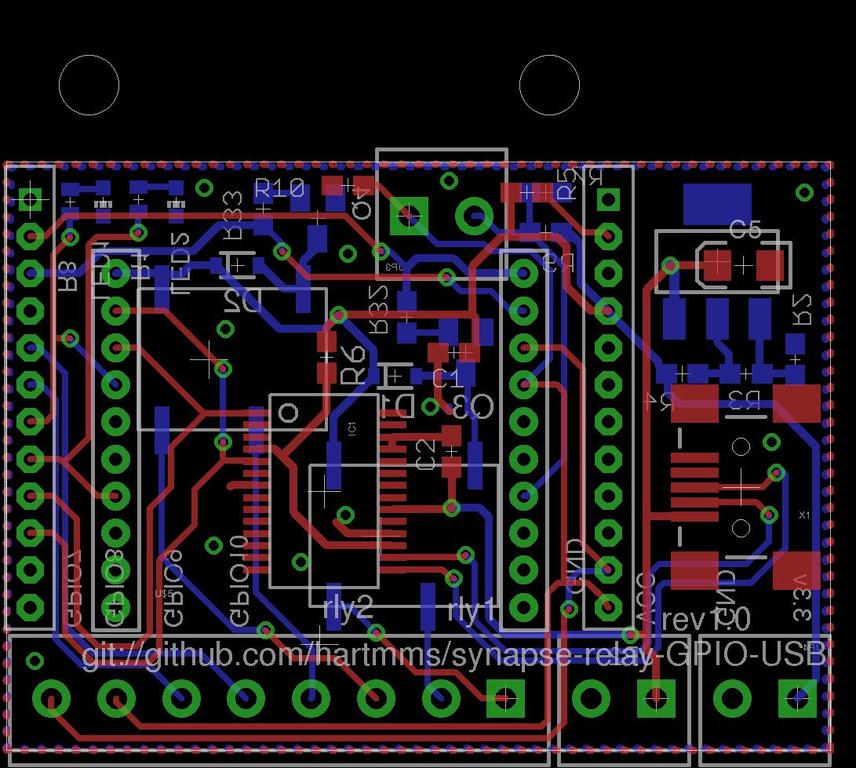 Bill of Materials
| Designator | Value | Description |
| --- | --- | --- |
| C1 | 0.1uF | Capacitor |
| C2 | 0.1uF | Capacitor |
| C5 | 10uF | Capacitor Polarized |
| D1 | | Diode |
| D2 | | Diode |
| IC1 | FT232RLSSOP | USB UART |
| JP1 | | Header 8 |
| JP2 | | Header 2 |
| JP3 | | Header 2 |
| JP4 | | Header 2 |
| LED1 | | LED |
| LED2 | | LED |
| Q3 | | Transistor NPN |
| Q4 | | Transistor NPN |
| R1 | 330 | RESISTOR, American symbol |
| R2 | 2k | Resistor |
| R3 | 2k | Resistor |
| R4 | 0 | Resistor |
| R5 | 0 | Resistor |
| R6 | 0 | Resistor |
| R7 | 9.5k | Resistor |
| R8 | 330 | RESISTOR, American symbol |
| R9 | 10k | Resistor |
| R10 | 10k | Resistor |
| R32 | 2k | Resistor |
| R33 | 2k | Resistor |
| U$1 | RF200THM | |
| U$5 | XBEE-1B1 | |
| U$9 | G6L-1P | SMT relay |
| U$10 | G6L-1P | SMT relay |
| U1 | V_REG_317SMD | Voltage Regulator |
| X1 | USBSMD | USB Connectors |
[JSON]