Description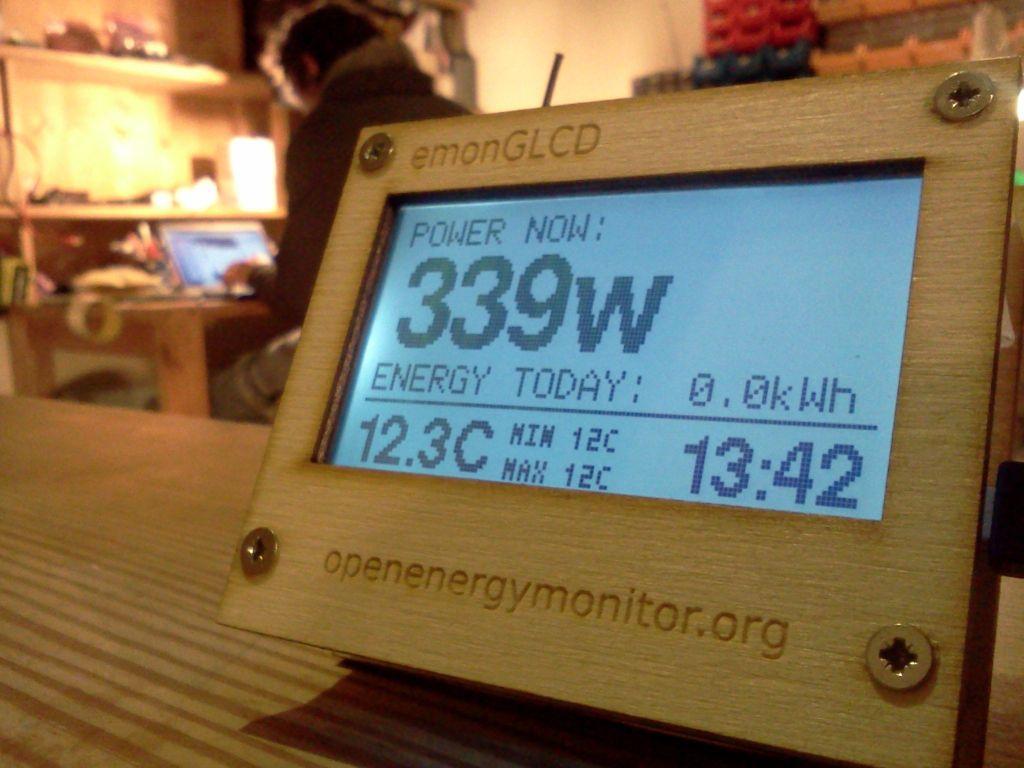 A general purpose wireless graphical LCD display unit. Powered by an Atmega328 with an Arduino bootloader.
The emonGLCD is designed to drive a 128x64 GLCD display based on the ST7565 driver. The board has a built in HopeRF RFM12B wireless module to receive data from the emonTx energy monitoring node or an emonBase (Nanode-RF web-connected basestation) which in turn could be pulled aggregated data from a web-sever to be displayed.
The emonGLCD has an on-board temperate sensor, light sensor and two tri-color ambient indicator LED's.
Based on JeeLabs.org design.
Schematic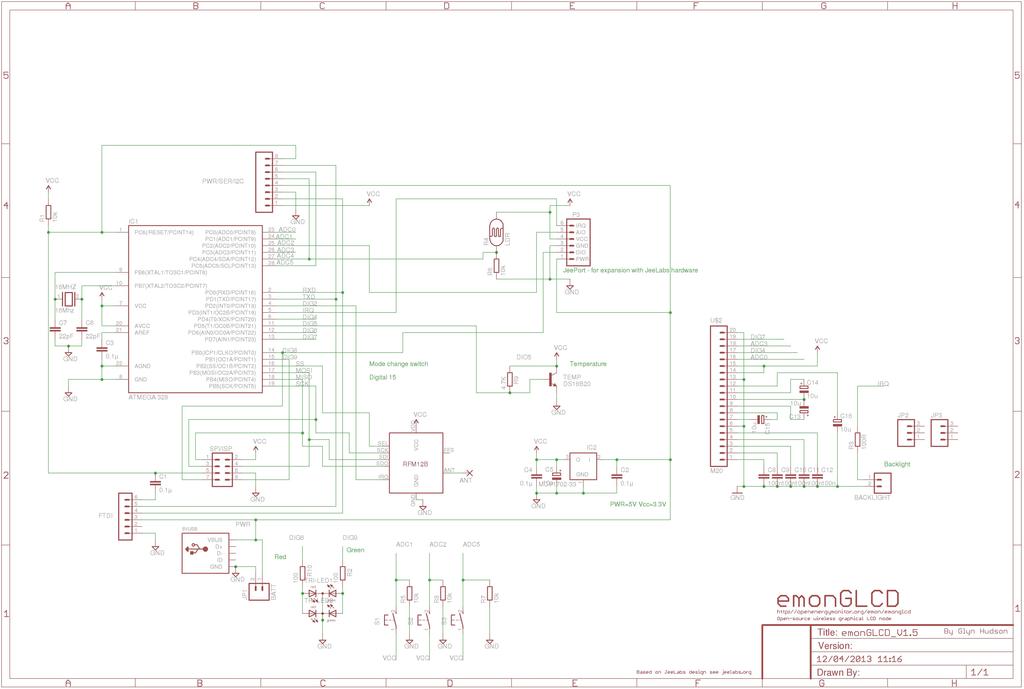 Board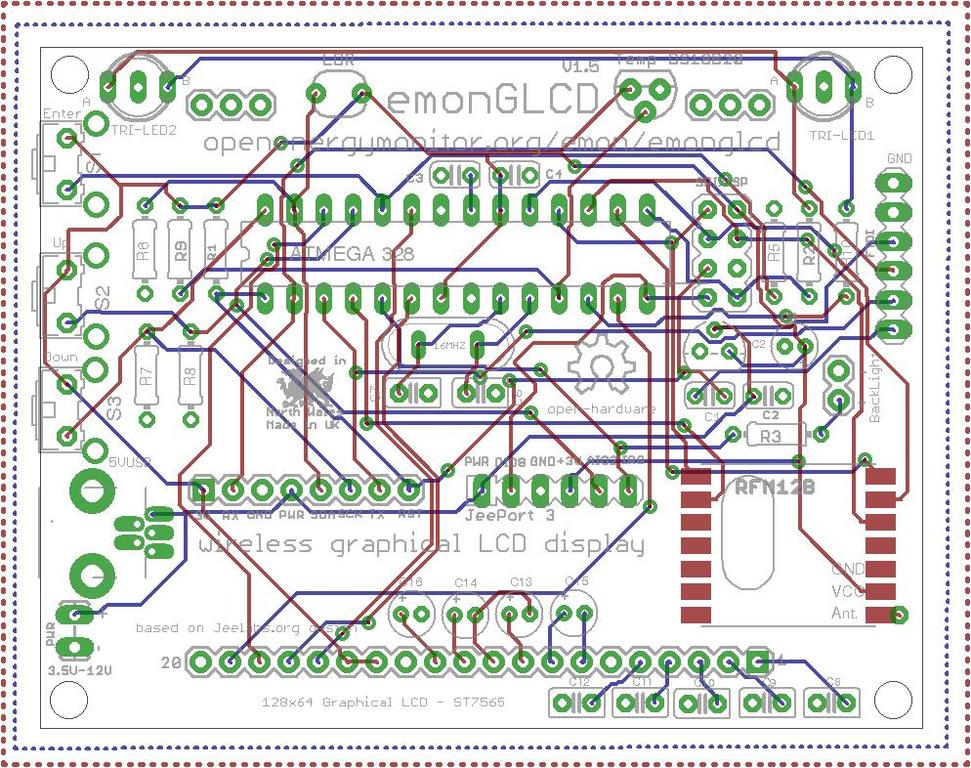 Bill of Materials
| Designator | Value | Description |
| --- | --- | --- |
| 5VUSB | | USB Connectors |
| 16MHZ | 16Mhz | CRYSTAL |
| ANT | | THROUGH-HOLE PAD |
| BACKLIGHT | | Header 2 |
| C1 | 0.1µ | CAPACITOR, European symbol |
| C2 | 0.1µ | CAPACITOR, European symbol |
| C3 | 0.1µ | CAPACITOR, European symbol |
| C4 | 0.1µ | CAPACITOR, European symbol |
| C5 | 10µ | POLARIZED CAPACITOR, European symbol |
| C6 | 22pF | CAPACITOR |
| C7 | 22pF | CAPACITOR |
| C8 | 100n | CAPACITOR |
| C9 | 100n | CAPACITOR |
| C10 | 100n | CAPACITOR |
| C11 | 100n | CAPACITOR |
| C12 | 100n | CAPACITOR |
| C13 | 10u | POLARIZED CAPACITOR, European symbol |
| C14 | 10u | POLARIZED CAPACITOR, European symbol |
| C15 | 10u | POLARIZED CAPACITOR, European symbol |
| C16 | 10u | POLARIZED CAPACITOR, European symbol |
| FTDI | FTDI | PIN HEADER |
| IC1 | ATMEGA 328 | |
| IC2 | MCP1702-33 | 200 mA, Low Power Low Dropout Voltage Regulator |
| JP1 | BATT | Header 2 |
| JP2 | | Header 3 |
| JP3 | | Header 3 |
| P3 | JEEPORT | PIN HEADER |
| PWR/SER/I2C | | Header 8 |
| R1 | 10k | RESISTOR, European symbol |
| R2 | 100 | RESISTOR, European symbol |
| R3 | 100R | RESISTOR, European symbol |
| R4 | LDR | Photocell Also known as a CdS photoresistor. This is a low cost way to detect light levels. Resistance decreases with more incoming light. SparkFun SKU: SEN-09088 |
| R5 | 10k | RESISTOR, European symbol |
| R6 | 10k | RESISTOR, European symbol |
| R9 | 4.7K | RESISTOR, European symbol |
| R10 | 100 | RESISTOR, European symbol |
| S1 | | OMRON SWITCH |
| S2 | | OMRON SWITCH |
| S3 | | OMRON SWITCH |
| SV7 | SPI/ISP | PIN HEADER |
| TEMP | DS18B20 | Transistor NPN |
| TRI-LED1 | | DUO LED |
| TRI-LED2 | | DUO LED |
| U$1 | RFM12B | |
| U$2 | M20 | This is just like the LOCK variant in that the holes are staggared by 5 mil, but except for the last two holes. They are not altered from the "standard" footprint layout. This is used for a special purpose on the layout of our Graphic LCD Backpack. Make sure you want to use this device before selecting it for you project! |
[JSON]