A low cost, Network Application Node with Ethernet Connectivity
www.nanode.eu
Description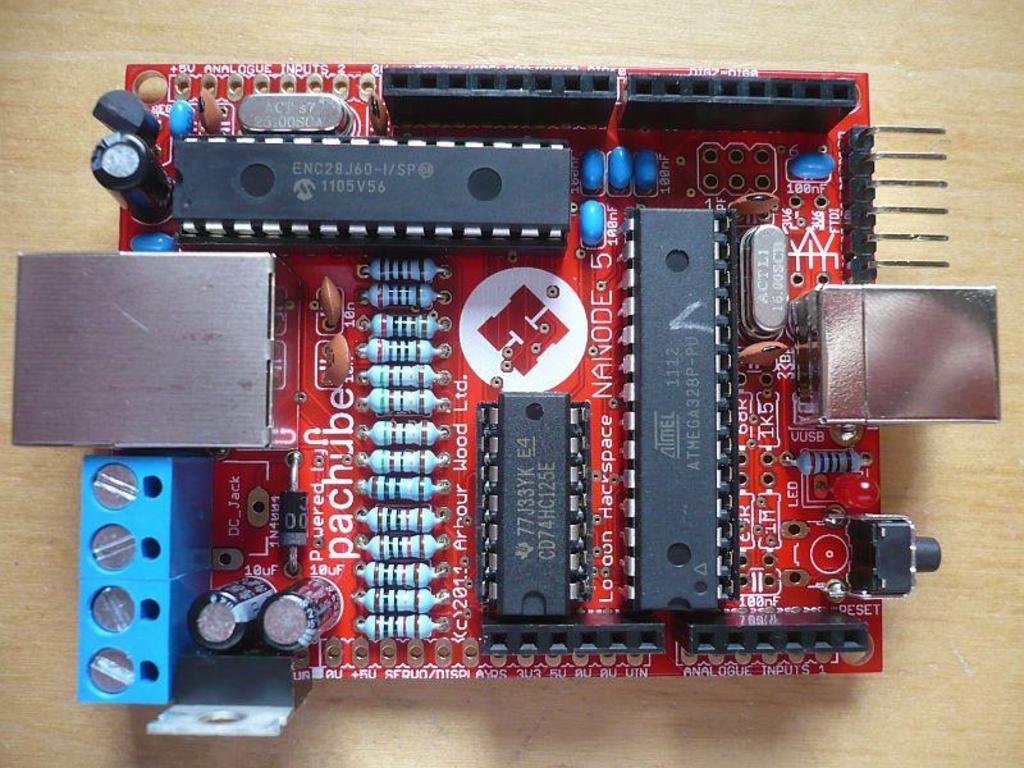 Nanode is an "arduino-like" board with built in ethernet connectivity. It is produced initially as a kit using through-hole components and fully socketed DIL ICs - allowing easy assembly and repair. It makes and ideal hobbyist or schools project.
Nanode combines the ATmega328 and ENC28J60 ethernet controller on the one small pcb and provides a very low cost means to develop simple, web connected products.
Nanode uses the familiar Arduino IDE for programming.
Nanode was developed in conjunction with the London Hackspace
Schematic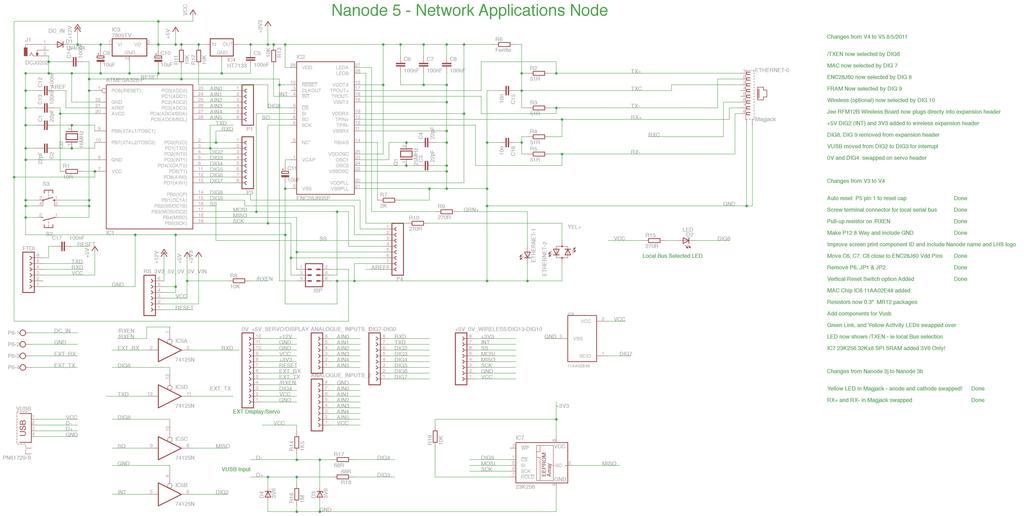 Board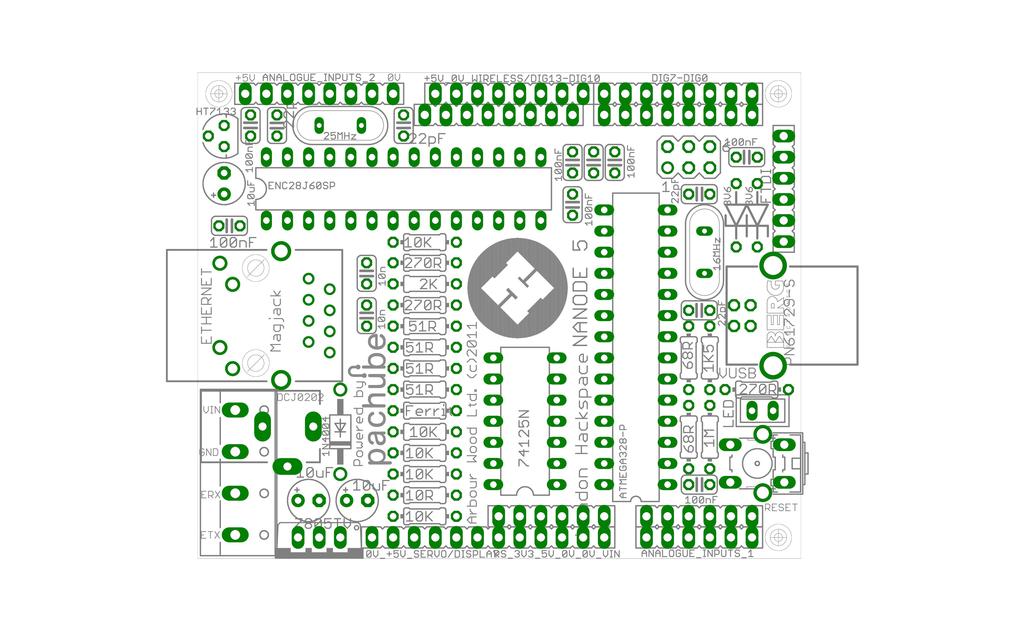 Bill of Materials
| Designator | Value | Description |
| --- | --- | --- |
| +5V_0V_WIRELESS/DIG13-DIG10 | | FEMALE HEADER |
| 0V_+5V_SERVO/DISPLAY | | FEMALE HEADER |
| ANALOGUE_INPUTS_1 | | FEMALE HEADER |
| ANALOGUE_INPUTS_2 | | FEMALE HEADER |
| C1 | 22pF | CAPACITOR, European symbol |
| C2 | 22pF | CAPACITOR, European symbol |
| C3 | 22pF | CAPACITOR, European symbol |
| C4 | 22pF | CAPACITOR, European symbol |
| C5 | 100nF | CAPACITOR, European symbol |
| C6 | 100nF | CAPACITOR, European symbol |
| C7 | 100nF | CAPACITOR, European symbol |
| C8 | 100nF | CAPACITOR, European symbol |
| C9 | 10uF | POLARIZED CAPACITOR, European symbol |
| C10 | 10uF | POLARIZED CAPACITOR, European symbol |
| C11 | 10uF | POLARIZED CAPACITOR, European symbol |
| C12 | 100nF | CAPACITOR, European symbol |
| C13 | 100nF | CAPACITOR, European symbol |
| C14 | 100nF | CAPACITOR, European symbol |
| C15 | 10n | CAPACITOR, European symbol |
| C16 | 10n | CAPACITOR, European symbol |
| C17 | 100nF | CAPACITOR, European symbol |
| D1 | 1N4004 | DIODE |
| D2 | LED | LED |
| D3 | 3V6 | Z-Diode |
| D4 | 3V6 | Z-Diode |
| DIG7-DIG0 | | FEMALE HEADER |
| ETHERNET | Magjack | MODULAR JACK 8 POS., RIGHT ANGLE, LOW PROFILE WITH LEDS |
| FTDI | | FEMALE HEADER |
| IC1 | ATMEGA328-P | MICROCONTROLLER |
| IC2 | ENC28J60SP | Stand-Alone Ethernet Controller with SPI Interface |
| IC3 | 7805TV | Positive VOLTAGE REGULATOR |
| IC4 | HT7133 | VOLTAGE REGULATOR |
| IC5 | 74125N | Quad bus BUFFER, 3-state |
| IC6 | 11AA02E48 | |
| IC7 | 23K256 | Serial EEPROM 4K/ 8K , SPI bus |
| ISP | | PIN HEADER |
| J1 | DCJ0202 | DC POWER JACK |
| P1 | | FEMALE HEADER |
| P3 | | FEMALE HEADER |
| P4 | | FEMALE HEADER |
| P6 | | WAGO SCREW CLAMP |
| Q1 | 25MHz | CRYSTAL |
| Q2 | 16MHz | CRYSTAL |
| R1 | 10R | RESISTOR, European symbol |
| R2 | 51R | RESISTOR, European symbol |
| R3 | 51R | RESISTOR, European symbol |
| R4 | 51R | RESISTOR, European symbol |
| R5 | 51R | RESISTOR, European symbol |
| R6 | Ferrite | RESISTOR, European symbol |
| R7 | 2K | RESISTOR, European symbol |
| R8 | 10K | RESISTOR, European symbol |
| R9 | 270R | RESISTOR, European symbol |
| R10 | 270R | RESISTOR, European symbol |
| R11 | 10K | RESISTOR, European symbol |
| R12 | 10K | RESISTOR, European symbol |
| R13 | 10K | RESISTOR, European symbol |
| R14 | 1K5 | RESISTOR, European symbol |
| R15 | 270R | RESISTOR, European symbol |
| R16 | 1M | RESISTOR, European symbol |
| R17 | 68R | RESISTOR, European symbol |
| R18 | 68R | RESISTOR, European symbol |
| R19 | 10K | RESISTOR, European symbol |
| RS_3V3_5V_0V_0V_VIN | | FEMALE HEADER |
| S2 | | OMRON SWITCH |
| S3 | | OMRON SWITCH |
| VUSB | PN61729-S | BERG USB connector |
[JSON]