Description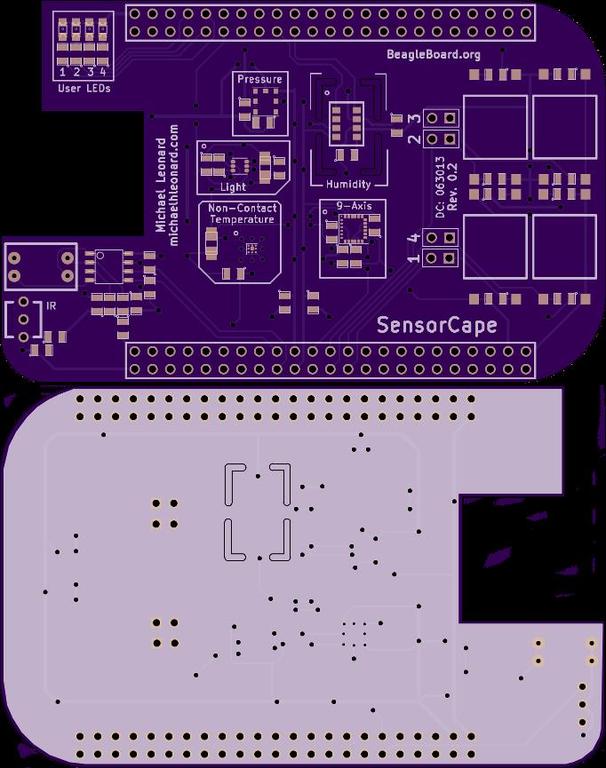 The SensorCape is an add-on cape for the BeagleBone Black that adds a large variety of sensors. This is a great way to add some external sensing capability to your next project. Devices included are:
3-axis accelerometer
3-axis gyroscope
3-axis compass
Humidity sensor
Pressure sensor
Ambient light sensor
Ambient temperature sensor
Non-contact temperature sensor
38kHz IR Sensor (interfaces with common commercial devices)
4 orange user configurable LED's
4 tactile switches for conventional user interface
Best of all, the majority of these sensors are interfaced using I2C which means that there are still plenty of GPIO pins available for other capes. Those that are not on the I2C bus can be physically disconnected in hardware, allowing for a very flexible range of configurability.
Schematic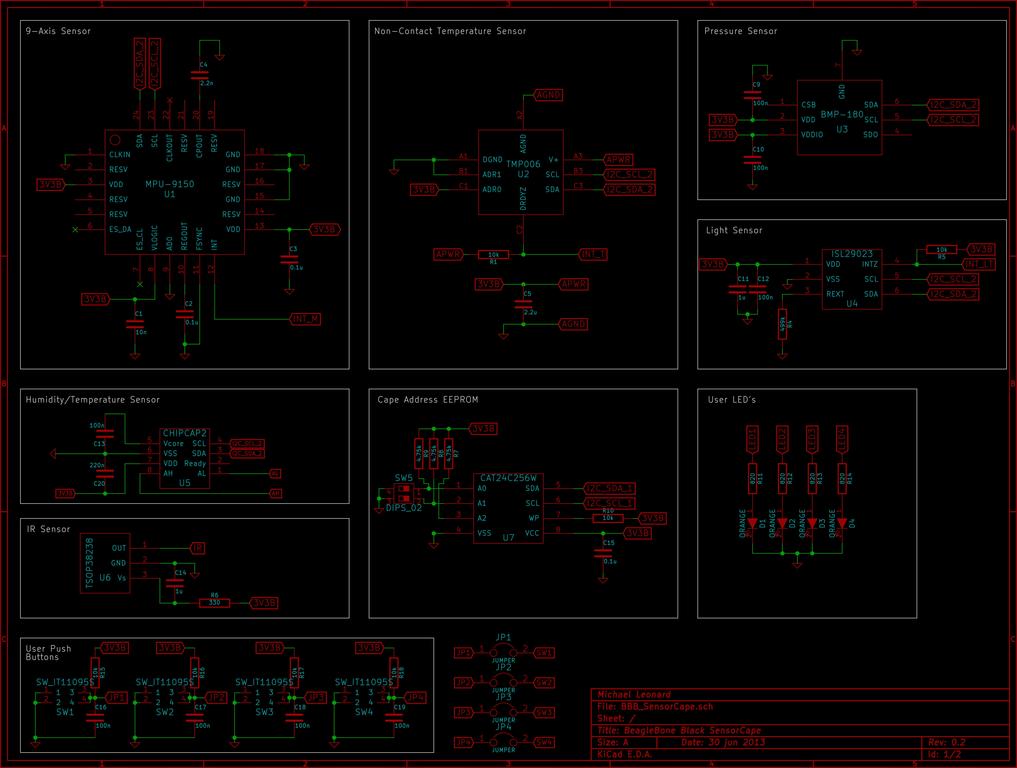 Board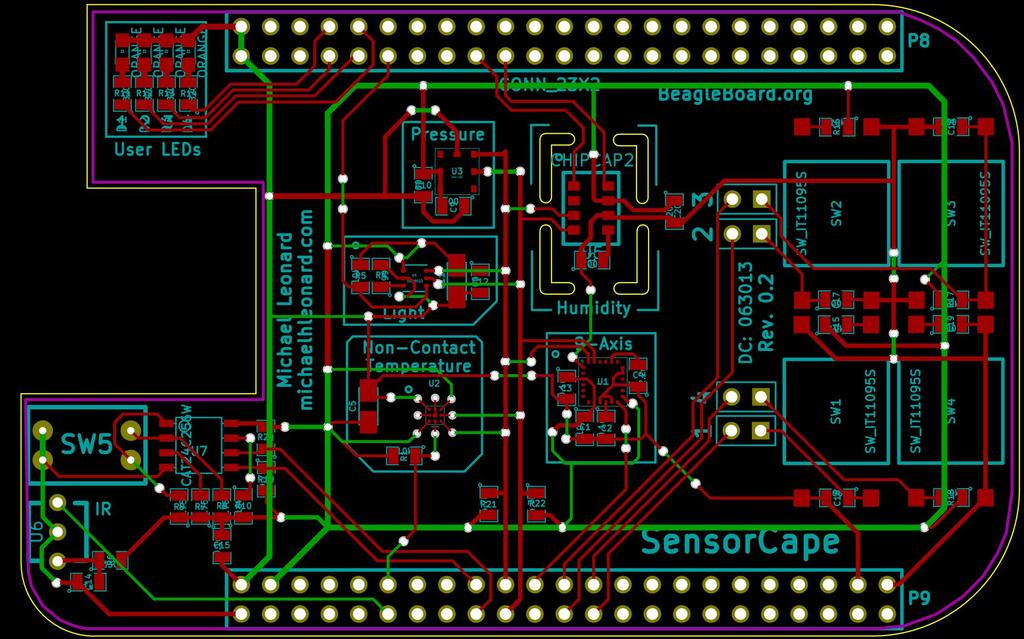 Bill of Materials
| Designator | Value | Description |
| --- | --- | --- |
| C1 | GRM216R71E103KA01D | 10nF, Ceramic, X7R, 10%, 4V |
| C2, C3 | GRM219R71C104KA01D | 0.1uF, Ceramic, X7R, 10%, 4V |
| C4 | GRM216R71H222KA01D | 2.2n, Ceramic X7R, 10%, 50V |
| C5 | 293D225X9010A2TE3 | 2.2uF, >= 10V |
| C20 | VJ0805Y224KXJMT | 220nF, Ceramic, X7R, 16V |
| C9, C10, C12, C13, C16,C17, C18, C19 | GRM219R71C104KA01D | 100nF, Ceramic, X5R, 10V |
| C11 | 293D105X9025A2TE3 | 1uF, >= 10V |
| C14 | VJ0805Y105KXQTW1BC | 1uF, Ceramic, X5R, 10V |
| C15 | GRM219R71C104KA01D | 0.1uF, Ceramic, X7R, 16V |
| R1, R5, R10,R15,R16, R17, R18 | CRCW080510K0FKEA | 10k, 1/10W |
| R6 | CRCW0805330RFKEA | 330, 1/10W |
| R11, R12, R13, R14 | CRCW0805820RFKEA | 820, 1/10W |
| R7, R8, R9, R19, R20, R21, R22 | CRCW08054K70FKEB | 4.7k, 1/10W |
| R4 | CRCW0805499KFKEA | 499k, 1/10W |
| D1, D2, D3, D4 | SML-211DTT86 | ORANGE |
| U1 | MPU-9150 | 9-Axis Sensor |
| U2 | TMP006AIYZFR | Non-contact temperature sensor |
| U3 | BMP180 | Pressure sensor |
| U4 | ISL29023 | Digital light sensor |
| U5 | ChipCap2 CC2D33 | Humidity and temperature sensor |
| U6 | TSOP38238 | 38 kHz IR sensor |
| U7 | CAT24C256WI-G | Cape address EEPROM |
| SW1, SW2, SW3, SW4 | FSM4JSMATR | SW_IT11095S |
| SW5 | KAS1102ET | DIPS_02 |
| JP1, JP2, JP3, JP4 | 5-146274-2 | JUMPER |
| Jumper Connectors | 382811-8 | Jumper Connectors |
| P8, P9 | SSHQ-123-D-08-GT-LF | CONN_23X2 |
[JSON]