Description

Think of the JeeNode as an Arduino + Xbee shield + Xbee, but smaller and less feature-full than the XBee.
The JeeNode is based on an Atmel ATmega328 - the same as an Arduino - and was inspired by Modern Device's Really Bare Bones Board, which is like a minimal implementation of an Arduino. The USB communication interface has been removed and any USB-to-TTLSerial based on the FTDI232R chip is guaranteed to work as connection. Being compatible with Arduino boards such as the Duemilanove means that you can use the IDE to upload a sketch using any PC running Windows, Mac OS X, or Linux.
The radio is a HopeRF wireless module, which is available for the 433, 868, or 915 MHz frequency bands. It is not compatible with the XBee - the RFM12B has its own very lightweight RF12 driver library.
Schematic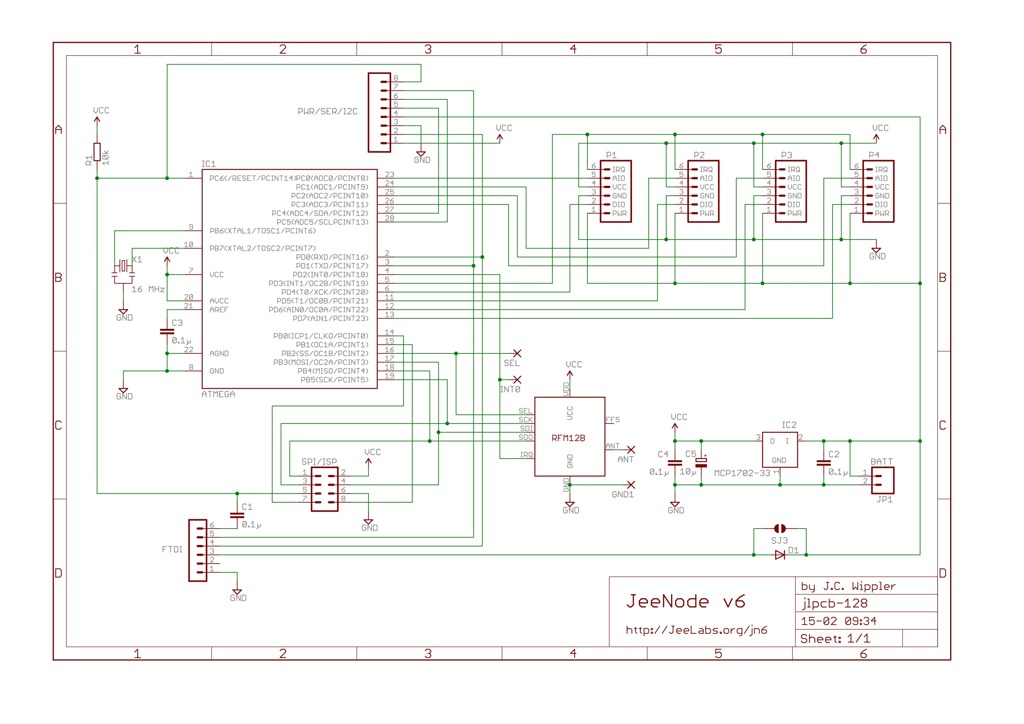 Board

Bill of Materials
| Designator | Value | Description |
| --- | --- | --- |
| ANT | | THROUGH-HOLE PAD |
| C1 | 0.1µ | CAPACITOR, European symbol |
| C2 | 0.1µ | CAPACITOR, European symbol |
| C3 | 0.1µ | CAPACITOR, European symbol |
| C4 | 0.1µ | CAPACITOR, European symbol |
| C5 | 10µ | POLARIZED CAPACITOR, European symbol |
| D1 | | DIODE |
| FTDI | FTDI | PIN HEADER |
| GND1 | | THROUGH-HOLE PAD |
| IC1 | ATMEGA | |
| IC2 | MCP1702-33 | 200 mA, Low Power Low Dropout Voltage Regulator |
| INT0 | | THROUGH-HOLE PAD |
| JP1 | BATT | Header 2 |
| P1 | JEEPORT | PIN HEADER |
| P2 | JEEPORT | PIN HEADER |
| P3 | JEEPORT | PIN HEADER |
| P4 | JEEPORT | PIN HEADER |
| PWR/SER/I2C | | Header 8 |
| R1 | 10k | RESISTOR, European symbol |
| SEL | | THROUGH-HOLE PAD |
| SJ3 | SOLDERJUMPERTRACE | Solder Jumper |
| SV7 | SPI/ISP | PIN HEADER |
| U$1 | RFM12B | |
| X1 | 16 MHz | Resonator |
[JSON]